Digital foundations for increased SME agility
Digital foundations for
increased SME agility
Warrick Cleine, Chairman and CEO at KPMG in Vietnam & Cambodia shares his insights on the topic of Agility and Resilience for SMEs with Vietnam Investment Review.

Q: The past year has revolved almost entirely around the COVID-19 pandemic. What would you say were the most important impacts for KPMG and the market in general?
The biggest change in my book has been the acceleration of agility through the adoption of technology and new mindsets. We are now confident in our ability to work from remote locations and are aware that we do not have to be physically in front of the client to serve them.
For us at KPMG, the pandemic had the potential to be very negative – but it was far from that. The negative impacts were mainly felt as a business interruption from the lockdowns and the lack of coherence among our people.
However, our people are very young and tech-savvy and proved extremely flexible, willing to just pick up where they left work at the office and continue online. In a way, the disruption has shown us that we can maintain operations even in the most difficult times.
The pandemic has brought disparate changes for different services, given the shifts in the economy. For example, during the lockdown periods, the demand for tax audit support and assistance was muted. On the other hand, mergers and acquisitions have remained strong, which has improved reliance on professional transaction services. With investors unable to come to Vietnam, they rely more on service providers like KPMG to help with transactions.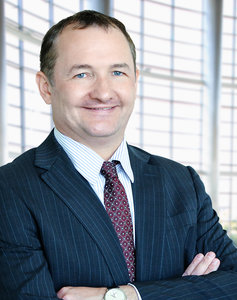 Warrick Cleine
Chairman and CEO 
KPMG in Vietnam & Cambodia
Altogether, the disruptions were both hot and cold for KPMG, with some services up, some down. The same can be said for the larger market. There are winners and losers in any situation and the spectrum is clearly visible during the pandemic, with tourism and hospitality losing and e-commerce among the greatest winners – while so many others are in the middle.
Disruptions were acutely felt, particularly during the lockdown phases as buying patterns and consumer behaviour changed; however, other areas that could have been impacted like the industrial sector have largely remained intact. Apart from these last few weeks with the outbreaks in the country, exports and transport have all stayed robust. The same goes for professional services, banking, and the securities market, but probably the biggest winners were e-commerce and electronic shopping, with much of their growth flowing into logistics.
Q: How do you think small- and medium-sized enterprises (SMEs) have been handling the situation?

If you look at economic sectors, the pandemic impacts on SMEs and startups follow similar patterns. Those in hospitality and tourism have had the biggest shock to their system because of markdowns, lack of tourists, and fewer people going shopping while the startup and tech sector have been able to adapt the fastest and have even managed to flourish during the pandemic.
The biggest difference between SMEs and large business has been their resilience and ability to deal with changes and shocks. SMEs have more limited resources, a narrower range of services, and potentially less capital to act as a buffer to support them over time.
To survive the pandemic, or any downturn, SMEs need to have their fundaments in place. We recommend building and strengthening these foundations, including a solid financial structure and key resources – typically human resources – but also customer experience and intellectual property. These are the things that enable businesses to survive a downturn.
Additionally, if SMEs have good leadership, they can adapt with more agility than big companies. Just look at all the SMEs that have rapidly moved into e-commerce and other business models to be successful – and the others who did not have the agility to survive.
Like in any economic shock, the strongest will survive. We will see a drop off in competitors, but those who survive will find themselves in a stronger position to pick up market share which would have been impossible without the stress of a pandemic.
Q: SMEs in greater numbers are now looking to overcome disruptions by streamlinig and optimising operations through digitalisation. While this is a key measure of their agility, you did say SMEs have limited resources. How difficult is it for them to begin the digital journey?

Platforms have been growing at a tremendous pace in Vietnam in the last couple of years, with the launch of Amazon Web Services and different e-commerce platforms. This has enabled entrepreneurs including startups and SMEs to plug into platforms and reduce their capital outlay.
Now that startups and entrepreneurs no longer need to invent necessary environment for operations, they are looking at much-reduced capital expenditure and a far smoother adoption journey. They still need moderate amounts of capital, however, to take operations into the digital sphere.
The digitalisation drive of the startup and SME sector still relies on a number of different factors. One is the knowledge and enthusiasm of the entrepreneurs, which has not been impacted by the pandemic.
Another is the ecosystem for the ideas to be commercialised. The pandemic has, to a degree, restricted startups from meeting and developing ecosystems. It has also made it difficult to attract foreign investment as investors could not enter Vietnam. On the other hand, startup investors have a very agile mindset themselves, so there still have been big and quite successful capital-raising transactions by tech startups and SMEs. This shows that the spirit of innovation was unhampered by the pandemic, along with investor interest.
Q: How is KPMG supporting clients and SMEs in this transformation?

Like many other companies, many of our clients have been affected by the pandemic. This was exacerbated by the investments required to uphold new COVID-19 prevention regulations.
Our restructuring team, consisting of management consulting, financial, tax, and legal specialists, was engaged to identify opportunities for improvement in working capital practices, governance, and performance. This comprised a review of the businesses' policies and procedures, conducting transactional level data analysis, developing a suite of initiatives across the Order to Cash, Purchase to Pay and Forecast to Fulfil cycles, and quantifying the size of the opportunities.
On the commercial side, we took a strategic approach on the product portfolio level and distribution channel, considering different timing scenarios depending on the lockdown period per region and country. We also made efforts to improve information flow in order to make better decisions, improve governance structures, and automate the business with digital technologies. As a result, the clients were able to operate more effectively across all the entities nationwide, in order to strengthen their market leadership.
In addition, we are also partnering with SMEs under a programme called KPMG NEXT, dedicated to helping Vietnamese entrepreneurs and startup founders achieve sustained high performance.
Through the programme, we nurture the personal and professional growth of Vietnamese business leaders so they can achieve and sustain high performance for themselves, their teams, and their business. We also connect them to the expertise that lies within KPMG in Vietnam and our global network to support their acceleration.
In the past five years, our KPMG NEXT team has helped over 200 businesses, many of which have become large and successful companies by now. For instance, after participating in the programme, a Vietnam-based e-commerce enabler has successfully closed its Series A funding round to accelerate its revenue growth and develop an innovative e-commerce solution for its roster of blue-chip clients. Another service provider in the field of integrated cold chain logistics learned how to harness the power of customer feedback to unlock growth and drive their product roadmap. Now it is operating a large fleet of trucks and warehouse network across the country.