Description
The "Economic Concentration - Overview & Key recommendations to enterprises" course provides comprehensive and updated information of prevailing regulations on economic concentration, including the legal basis, fundamental principles, categories of economic concentration and prevailing procedures of economic concentration notification.

The training course also provides an overview of the role of economic concentration notification procedures with M&A deals. Delivered by Senior people of Legal Services, KPMG Vietnam, with specific processes, workflow, illustrative templates, and practical case studies.

Objectives
After completing this session you will be able to understand:
— Understand the Vietnamese prevailing regulations and key considerations relating to economic concentration;
—
Gain insight on practical procedures to notify economic concentration to the competent authorities and understanding of possible legal risk related to this matter;
—
Key recommendations relating to economic concentration for enterprises before entering a M&A transaction
Agenda
I. Introduction:
- Overview of economic concentration
II. Fundamental principles
- Legal basis & competent authorities
- Definition
- The Thresholds
- Decision tree
- Licensing procedures
- Other considerations
III. Case study
IV. Q&A
OnDemand is better on your smartphones
Take advantage of 1-click registration and get notification of future courses
via OnDemand mobile app on Android / iOS

Certifications
Upon successful completion of the course, participants will be awarded a certificate awarded by KPMG.
Becoming certified shows that you have picked up the skills covered in the course and your motivation to learn. You will not only address your business concerns, but also strengthen your own professional development.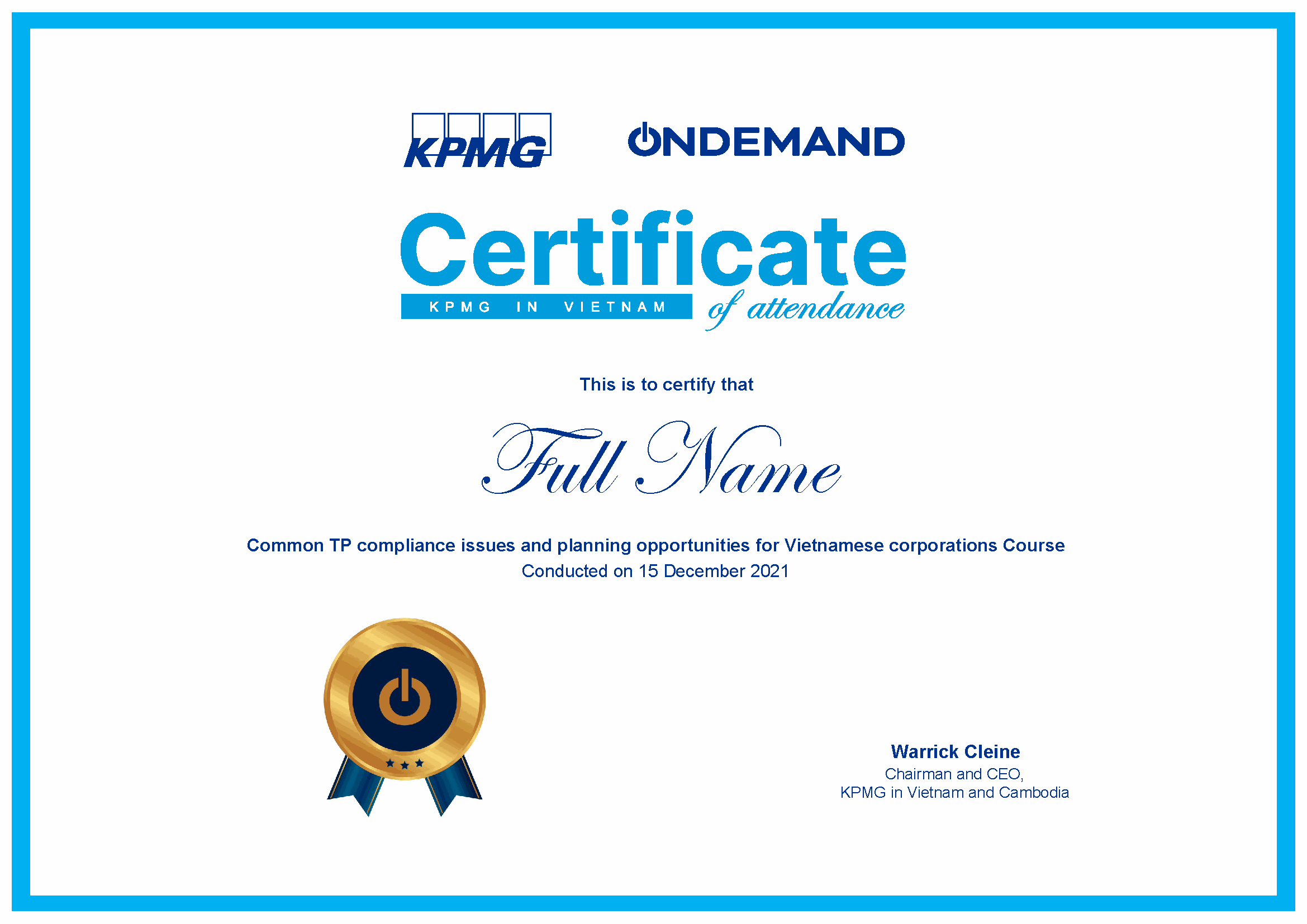 Pham Thi Quynh Ngoc has over 20 years of professional experience, including 07 years in the Tax practice of another Big Four international accounting firm and in a local advisory firm in Hanoi.
She has in-depth knowledge and various experience in advising and assisting international companies on Vietnam taxation, investment , general corporate, retailing, finance & banking, consumer market, petroleum, etc.
She has been providing a wide range of legal services in areas including business set up, outward and inward investment, corporate governance and compliance. Especially, she has advised some leading companies which engages in real estate business, FMCG, beverage, hospitality, logistics, etc. in preparing and carrying out anti-trust filing with competent authorities in Vietnam.