Lean Six Sigma Green Belt Program
Lean Six Sigma Green Belt Program

    09:00 - 17:00 (lunch included)
    20 Apr - 25 Apr 2023 (excluding Sunday 23rd Apr)
Offline - District 1, HCMC
English
      Original Price: 
23,700,000 VND (10% VAT included)
Description

Corporate leaders recognize the importance of data-driven approach for identifying and executing improvement opportunities. To facilitate this, Lean Six Sigma comes into picture as a scientific and proven methodology. 
KPMG offers Lean Six Sigma Green Belt training and certification program which aims to provide the participant(s) the confidence to contribute towards organizational success and improvement with enhanced competency.
Agenda

I. Introduction
  1. Workshop introduction
  2. Lean Six Sigma Overview
II. Define Phase
  1. Define Phase Overview
  2. Projects Identification
  3. Identifying CTQ / CTP Parameters
  4. Project Charter
  5. Process Mapping



III. Measure Phase
  1. Measure Phase Overview
  2. List & screen Xs
  3. Data collection
  4. Measurement System Analysis (MSA)
  5. Defining Baseline
IV. Analyze Phase
  1. Analyze Phase Overview
  2. Analyze suspect root causes
  3. Comparative methods
  4. Correlation and regression analysis



V. Improve Phase
  1. Improve Phase Overview
  2. Pilot implementation
VI. Control Phase
  1. Control Phase Overview
  2. Control Methods and tools
  3. Statistical Process Control (SPC)
VII. Lean Six Sigma Green Belt Test for Certification
Program Highlights

- Training conducted by KPMG expert with the experience of training more than 4 thousand professionals in Lean Six Sigma Green Belt and Black Belt in both manufacturing and service industries.

- Interactive classroom sessions with sharing of practical examples

- Demonstration of relevant statistical tools

- Exercises on real life scenarios
Benefits

After completing this session, participants will be able to:
- Appreciate the importance and impact of Lean Six Sigma initiative.
- Define their roles and responsibilities and roles of Black Belt/Green Belt/other stakeholders.
- Understand data-driven problem solving
- Understand the DMAIC model (Define, Measure, Analyze, Improve, Control) and associated tools
- Apply practical tools to identify, set up and implement successful Lean Six Sigma projects in their organization and deliver tangible benefits
Certification

Upon successful completion of the course, participants will be awarded a certificate by KPMG*
Becoming certified means that you have picked up the skills covered in the course and you are motivated to learn. You will not only address your business concerns, but also strengthen your own professional development.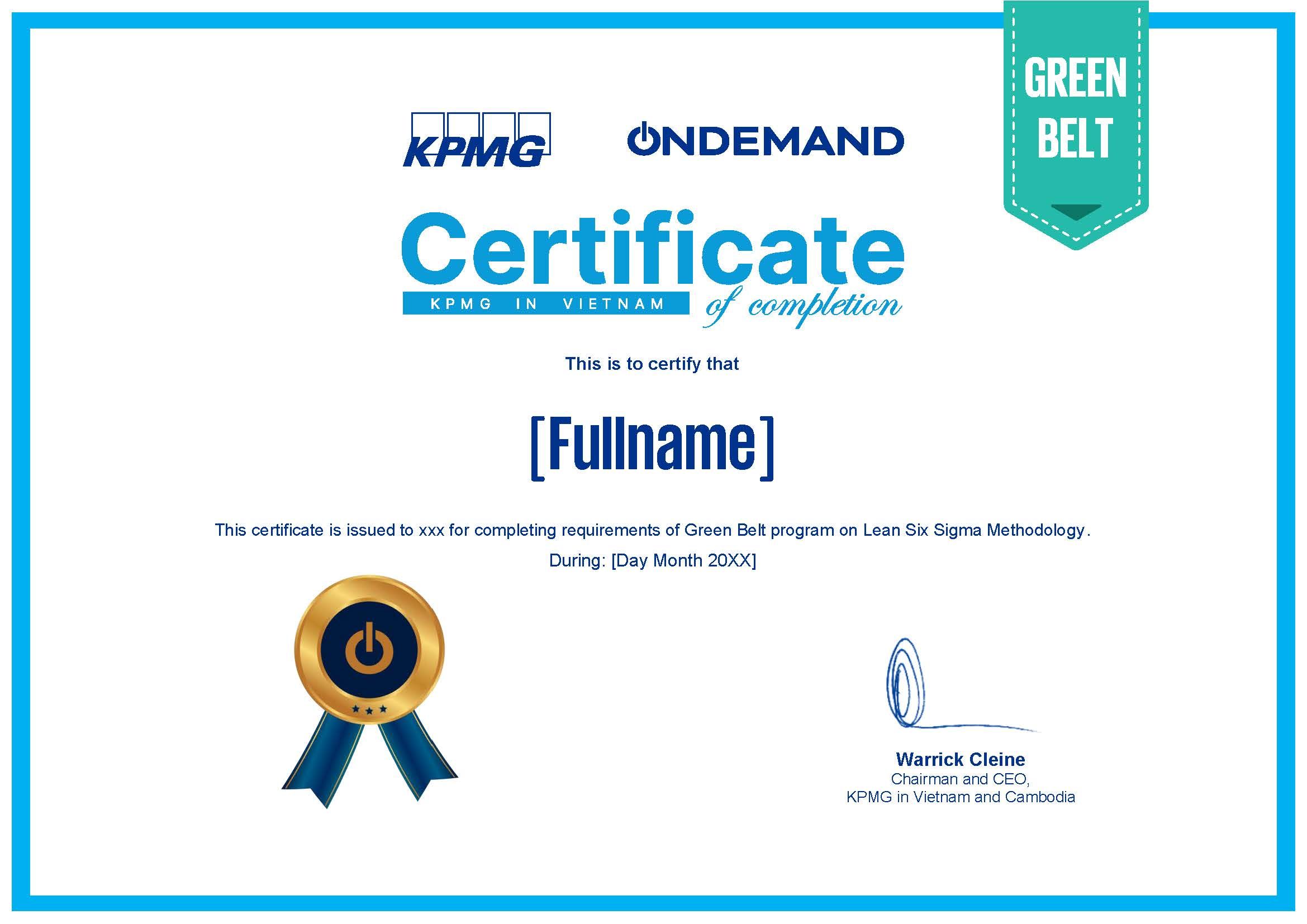 *The participant must have 100% attendance during the course
and must pass the Lean Six Sigma Green Belt test to be certified
Who should enroll?


1. Professionals involved in process control, quality management and improvement



2. Practitioners with occupations related to data analytics, research, process engineering and optimization




3. Aspirants for Lean improvement, waste reduction, production and service efficiency




4. Decision-makers in varied roles across industries and sectors

Manish Kumar Jha
Associate Director
Business Excellence 
KPMG India 

Manish Jha has over 13 years of experience in Strategy and Operations consulting. He is a Six Sigma Black Belt certified professional. He has worked in sectors such as Automotive, Steel, Healthcare, Retail, Logistic, Banking and Finance to drive a range of strategic initiatives related to process transformation, EBITDA improvement, strategic revenue enhancement projects in various organization. He has a significant experience in deploying business excellence framework inline with TQM, MBNQA & EFQM. 
Manish has managed successful completion of more than 20 key strategic six sigma projects at corporate level having direct impact on OEE/ Customer Complaints/ Quality having financial savings to the tune of 5-10X multiplier. He has also trained and mentored more than four thousand participants. Besides, he has also worked on several business transformation and digital transformation engagements.